Nature for Kids

"Nature for Kids," from the series "Words for Kids," is a game that promotes the development of children between 2 and 4 years of age.

Together with your child, you can watch wonderful images of natural objects and phenomena, seasons, fruits and vegetables, berries, flowers, and mushrooms, all while learning their names!
The carefully selected photographs will not only help a child learn the names of various natural objects and phenomena, but also expose him or her to the remarkable beauty of the world in which we live!
After the child has looked through all the flashcards, he or she can take a fun quiz to see how many of the words he or she knows. Regardless of the number of correct answers given, and of stars earned, the child's developing skills will be fostered by enthusiastic applause and floating balloons!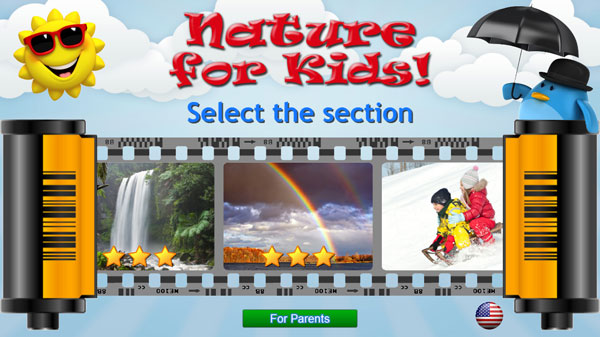 User Reviews
John j

Great app with basic tech, east for any kids. No ads!
guillermo leon

Great learning game for my kids... enjoyed it very much!!!
Fantastic application

Amazing pictures and sounds of animals and no ads! Great for kids. Thanks for developers!
vinay atkare

My baby loved it n me too happy with the app..good try to give ur baby idea about animals at home... .
View All